By Dani Shapiro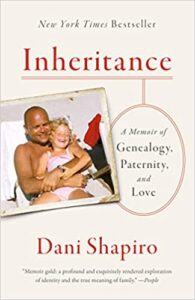 Based on a DNA test she took because of her husband's interest in genealogy, Dani Shapiro discovered the man she grew up believing was her father actually wasn't.
This book is the telling of her search for answers: How did this happen? Why did her parents never tell her? Who is her biological father? Who is she now that everything she believed has changed?
With both parents dead, she can no longer get answers directly. She instead dissects memories, slowly making connections. She realizes why she never felt like she belonged in her family, with blond hair and blue eyes that were so unlike her relatives.
At the same time, if she is not her father's daughter, then she is no longer part of the proud heritage of his Eastern European Orthodox family. She becomes obsessed with whether or not conception by artificial insemination is acceptable under Jewish law.  (It is.) There is no question about her Jewishness or that of her son because her mother was Jewish. Even so the question continues to absorb her.
Her search for answers leads her deep into the shocking practices of 1950s fertility clinics, with their lack of oversight and deceptive practice of mixing sperm from more than one donor. She finds that she is not alone in discovering that her father wasn't who she thought he was. She finds myriad people online searching for information about their biological fathers.
Unlike most of those people, however, Shapiro was lucky: within 36 hours, through information she found on Ancestry.com, a DNA match with a cousin she didn't know she had, and deduction and guesswork, she was able to identify her biological father.
This presents an entirely new dimension to her identity. Her biological father is a physician with a grown and loving family. He is completely unprepared for the news Shapiro shares and her desire to meet him.
This book by turns is absorbing, shocking and poignant. It's also repetitive, obsessional and frustrating. In writing this story as she lived it, Shapiro has created a book that is raw, as if it were lifted from a diary. It lacks the perspective that comes from reflection and processing.
That said, the growing popularity and affordability of DNA testing makes Shapiro's experience likely to be an increasingly common one. It's a sobering demonstration of how many secrets once could confidently be buried forever, today can be revealed with a few clicks on internet links.
The Author: Dani Shapiro (1962 – )
Dani Shapiro has written novels, memoirs, screenplays and articles for magazines such as The New Yorker, The Oprah Magazine, Vogue and ELLE.
She went to Sarah Lawrence College where one of her teachers was author Grace Paley. She has also taught creative writing at Wesleyan University and at the New School and Columbia University. She has written about the creative life in STILL WRITING: THE PERILS AND PLEASURES OF A CREATIVE LIFE (2013).
Her other books include PLAYING WITH FIRE (1990); PICTURING THE WRECK (1995); HOURGLASS: TIME, MEMORY, MARRIAGE (2017), an examination of marriage, the abrasion of life and the bond that hold a couple; and DEVOTION: A MEMOIR (P.S.) (2011), which has been described as a spiritual detective story as Shapiro tries to understand the meaning of life when she has a seriously ill son, a dead father and a troubled relationship with her mother.
Her memoir, SLOW MOTION: A TRUE STORY (1998), about how her life was transformed by a devastating car wreck that killed her father and seriously injured her mother, was the basis for a screenplay in 2000 that she co-wrote with her husband, journalist and screenwriter Michael Maren.