by Julia Dahl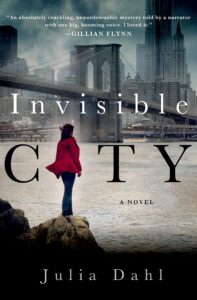 When her editor sends her to get a story at scrap yard where a woman's dead body has been discovered, freelancer Rebekah Roberts finds herself face-to-face with the Hasidic community her mother once ran away from.
Rebekah never knew her mother, Aviva. A year after Rebekah's birth, Aviva abandoned Rebekah and her father to return to the Hasidic world she came from.
As Rebekah digs deeper into the life of Rivka Mendelssohn, the murder victim, the more similarities with Aviva Rebekah she sees.
Married to the much older owner of the scrap yard, Rivka had four children, one of whom had recently died. She reportedly had been making visits to a house on Coney Island designed to help members of the tightly knit, rigidly observant Hasidic community explore life outside the community. There were rumors as well that she was involved in an extra-marital affair.
Rebekah finds the Mendelssohns strangely resistant to answering questions about Rivka and the police strangely ignoring standard procedures. They allow a Jewish mortuary to take the body away instead of the coroner; they don't examine the body for injuries; they don't bring the husband in for questioning.
This is a story of a young reporter undergoing trial by fire. It's also the story of a community so traumatized by the Holocaust that it keeps its own secrets, runs its own security force and attempts to handle its own wrong-doers in its own way. The community's self-protectiveness seems to multiply the victims and fails to punish the perpetrators.
In some ways, this story is like riding a sightseeing bus through Borough Park or Williamsburg. You get a flashing impression of the community but no depth. Rebekah was raised by her Methodist father and knows little of the Jewish heritage of her mother's side of the family. Nor does she seem to want to learn more.
She carries understandable baggage from her mother's abandonment. But at its heart, this is a mystery story, a who dunnit, rather than a story about being Jewish.
This is author Julia Dahl's first novel. It won the Barry, the Shamus and the Macvity Awards for Best First Novel and was a finalist for the Mystery Writers of America's Edgar Award for Best First Novel. INVISIBLE CITY was named one of the Boston Globe's Best Books of 2014.
The sequel to this book is RUN YOU DOWN (2015), followed by CONVICTION (2017). CONVICTION was named one of the best books of 2017 by the Boston Globe and LitHub.
About the Author: Julia Dahl (1977 – )
Julia Dahl is a journalist who specializing in reporting on crimes and criminal justice.  She writes for CBSNews.com and has worked as a freelance reporter for the New York Post. Her feature articles have appeared in Salon, the Columbia Journalism Review, The Boston Globe Magazine and many others. She was an associate features editor at Marie Claire, the deputy managing editor of The Crime Report.
INVISIBLE CITY was a finalist for the Mystery Writers of America's Edgar Award for Best First Novel and was named one of the Boston Globe's Best Books of 2014. INVISIBLE CITY won the Barry, the Shamus and the Macavity Awards for Best First Novel.
In addition to the Rebekah Roberts series, she wrote a stand-alone called THE MISSING HOURS (2021).
Dahl teaches journalism at NYU.
She was born in Fresno, CA, to a Lutheran father and a Jewish mother. Working on her high school newspaper, launched her desire to become a journalist. She earned a bachelor's degree from Yale and master's degrees in creative writing and journalism from The New School and American University, respectively.
She lives in in the Hudson Valley with her husband son.