By Linda Grant
"Scratch a Jew and you've got a story," Evelyn Sert tells us on the opening page of her own story, WHEN I LIVED IN MODERN TIMES.
The time is April 1946, when "victory hung like a veil in the air, disguising where we might be headed next." The place is Palestine.
Evelyn herself is two generations away from a Latvian shtetl. Her late mother was the mistress of a Zionist businessman. When Evelyn's mother dies, he sells the hairdressing salon Evelyn's mother managed and gives Evelyn the proceeds to go to Palestine.
In Soho, where she grew up, Evelyn was acutely conscious that being Jewish made her "other" in British society. By going to Palestine, she believes she will be part of – rather than apart from – the society in which she lives. But in Palestine, she discovers, she is a displaced person – not so dramatically or officially as a Holocaust survivor, but just as far from what she understands home to be.
Without skills and unable to take the desert heat, she fails at kibbutz living in the Galilee. She hitches a ride to Tel Aviv. She quickly finds an apartment and work as a hairdresser in a neighbor's salon.
Tel Aviv is "the newest place in the world." German Holocaust survivors sit in the beachside cafes, wearing black suits, discussing German literature, music, art and culture, trying to recreate the life they knew in pre-Nazi Germany. The sabras call them Yekkes, both for the jackets they wear and a pun. (Yekkes is an acronym for Yehudi Kashe Havanah – a Jew who has a hard time understanding.)
British bureaucrats and military personnel fill the city, too. They plant lupine and primroses in their sandy front yards and take tea. In Mrs. Kulp's hair salon, Evelyn is popular. She knows the latest hairstyles, songs and dances from London.
When Evelyn is with the British, she feels British. When she is with her neighbors or her Sabra boyfriend, an Irgun member, she feels Jewish.
"I felt as if we were all half here and half somewhere else, deprived of our native languages, stumbling over an ugly, ancient tongue," Evelyn said. "We knew that we were to be remade and reborn and half did and half didn't want to be."
Events soon topple Evelyn's ability to balance her two worlds. The British, just beginning to understand that their empire is expiring, are colliding with the Irgun, the Haganah and the millions of Jews who had been waiting 2,000 years to come home.
As the crisis builds, so do the paradoxes. The British decide to send the women and children back to England. One British woman tells a Jewish baker, "Palestine is my home, you know. I've been here since I was a girl. My father was in Kenya before he came out. They're sending me back to England. I hardly know it. I'm going into exile, but you people know all about that."
Behind her back, the baker laughs.
In the end, fate carries Evelyn in directions and to realizations she never could have reached on her own.
One of the satisfying aspects of this book is that while it opens at the beginning of Evelyn's life, it ends with the story of an older, wiser, more loving and courageous Evelyn.
Toward the end of her story, she says, "Look at it this way, we are the people of the Book. It is the first thousand years of Jewish history and though we have no second volume for the next two thousand years, each story a Jew tells is part of that book. We have no choice but to listen."
About the Author: Linda Grant (1951 – )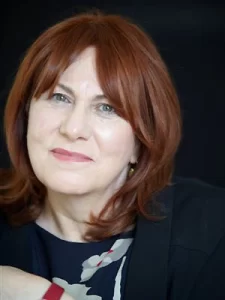 Born in Liverpool, Linda Grant's father made and sold hairdressing products. Like Evelyn Sert, her parents' families had immigrated from Eastern Europe.
She studied English at the UniversIty of York and completed a master's degree in English at McMaster University in Canada. Returning to England she became a journalist and worked for The Guardian.
Her first book was SEXING THE MILLENNIUM: A POLITICAL HISTORY OF TE SEXUAL REVOLUTION (1993). She also wrote a personal memoir, REMIND ME WHO I AM, AGAIN about her mother's fight with vascular dementia.  Her first novel was THE CAST IRON SHORE. She has written three other nonfiction books and five other novels.